Why learn with us?
We have the most modern equipment in Slovenia,
we have our own turbine aircraft and we organize jumping most often,
we have the largest number of skydiving and AFF instructors,
all instructors are members of the Slovenian national team.
Skydiving course dates
To organise a skydiving course in a foreign language (English) we need at least 3 applicants. The exact date of the course will be communicated later in the process. For more information please contact us on
[email protected]
Theoretical class lasts 3 days and will be held in Ljubljana, Gospodinjska ulica 8.
Theoretical class will start every day at 4.30 pm
We will begin with skydiving right after successfully completing the theoretical part of the course.
Levels of skydiving course
Become a skydiver by the safest and fastest method AFF - Accelerated Freefall.
This is the most intensive skydiving course. Anyone can learn how to skydive by themselfs in seven days without any special prerequisite knowledge. This method is becoming the most popular skydiving teaching method in the world.
Your skydiving course will begin with four day theoretical class. During this class you will gain all the needed theoretical knowledge for your first skydive. After each completed AFF skydive, skydive video will be analyzed and theoretical preparations for the next jump will be held. All 7 skydives can take place in just 2 days.
AFF skydives 1-3
The first three skydives the student is accompanied by two instructors that take care of stable and safe skydive. During the third skydive both instructors let go of the student for the first time but they are still flying alongside the student. They are using hand signals to warn him of mistakes. With every skydive the student is gaining self confidence, stability and is starting to enjoy the free fall.
AFF skydives 4-7
After successfull third skydive the student continues the course with one instructor. In this phase the student continues with advanced and more complex exercises such as turns, flying upside down, ... After successfull seventh skydive the student has finished AFF skydiving course and is ready for his first independent skydive.
After a concluded aff course
In order to apply for an A category skydiving license a student must first perform at least 25 skydives (including the AFF course skydives). These 25 skydives are done on his own, under supervision of his skydiving school's instructors (the instructor supervises the student while he/she packs their parachute, makes a gear check before the student boards the airplan to assure the gear is in perfect order, helps with/guides and debriefs the student's landings etc.
After obtaining the licence, the person can skydive without supervision.
Skydive prices after concluding the aff course
Skydiving prices for skydiving students and licensed skydivers do not differ – they are set by the aircraft provider.
Until a skydiver obtains their own gear they can borrow it from various providers for a fee.
Learning methods comparison
Modern method - AFF
Classic method - SL
Course includes: theory and 7 skydives (altitude 4000 meters, acompanied by two instructors). student is independent in free fall already after seven skydives.
Course includes: theory and 3 skydives (antidude 1000 meters - parachute attached to the plane that opens the parachute automatically). student is independent in free fall after appx. 30 skydives.
Student can master all techniques during this course.
During the course student does not independently skydive from altitue of 4000 metrov (COURSE CONTINUES WITH REGULAR PAYMENTS OF SKYDIVES). Slow pregress after the corse - first independent parachute opening, then gaining altitude and getting used to free fall.
First independent skydive after 2 days of skydiving (without instructors help).
For the first independent skydive student needs months (because there is no direct help of the instructor in midair).
Individual instructor – student approach (Intensive preparations for every skydive + help in the air, corrections of mistakes). Instructor takes recordings of skydives in free fall as well. This is followed by analysis and correction of mistakes.
Group instructor – students approach. (Instructors show correct jumping technique on the ground, students are alone in the air, instructor can't correct their mistakes). The only possible recording is the jump, student disappears fast and mistakes are not visible on the recording.
Students feel safe during free fall because of constant company of instructors (feeling comfortable leads to faster progress).
Students are regularly under stress as they are alone in midair.
Course prices
Skydive from altitude 4000m (two instructors)
230€
Skydive from altitude 4000m (one instructor)
150€
Classic skydiving training
290€
Coach skydive from altitude 4000m
130€
Private lectures + tuition
300€
Don't have time when there is a group lesson scheduled?

Contact us for fully customized lectures in Ljubljana.
AFF course consists of a 3-day theoretical preparation part, three levels (skydives) accompanied by two instructors and four levels (skydives) accompanied by only one instructor. In case the student does not meet the standard of any of the levels, they have to re-do that level. The AFF course is paid jump by jump – at the end of the day, you pay as many jumps as you did on that specific day. The theoretical preparation and the tuition are paid on the day of your first skydives.
Impressions of our students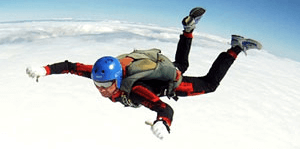 Rok Novak
What? A drug.
What kind of drug? A good one.
How good? Very good.
Treatable? No chance.
Does it hit you? Sure. It hits you so hard you start flying.
What did you say this is? AFF.
What AFF!? Really, AFF!!
Do the cops know for it? No way. If they do you speed past them 250 km/h, they can't catch you.
Well not tell me what is this? Is anybody listening? AFF skydiving drug.
I need it!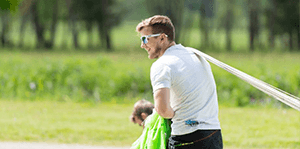 Erik Kocjan
After succesfully completing the AFF course it was time for me to collect the memories from this awesome experience and put them on some paper. The course began with the theoretical part. Tomaž Hrast is the instructor that explained us everything we should know before going to the sky. When the class was over, we were all barely waiting for our first jumps. The verz next weekend, it was finally time to head to the dropzone. To make sure everyone is as safe as possible our other instructor Aljaž interviewed us regarding each and every emergency procedure(these are the two most common words you will hear if you decide to take the course) that could possibly occur, and explained us the unwritten of the dropzone to make sure we wouldn't become a flying hazard to ourself and everyone else. After the »interrogation« it was time for us to check our gear, which we got to know previously in class. The last thing before getting on the plane was getting to know the dive plan. After that Tomaž, Aljaž and me boarded the plane and we took off. During our flight to altitude my mind was racing. I kept thinking about the dive plan, what am i supposed to do and how to do it, what i shouldn't do, but mostly i was just concentrating on one thing...show no fear. A coupple of minutes into our flight the pilot turned towards us and yelled »1 mile!«. I did not really understand what that meant, but judging by other people's reaction it was time to get ready for the skydive. A minute later the pilot looked back again but this time he yelled »Exit!«. Suddenly the plane door opened and it was now time to jump. My instructors and i waited until everyone else left the airplane. Now it was our turn. Aljaž was the first to set-up at the door, followed closely by Tomaž and after him it was my turn. I instantly felt a really powerful, but incredibly pleasing type of fear, my brain got flooded by adrenaline and yet i was still able to control the situation withou shutting off completely. I looked at Aljaž, then at Tomaž, gave a quick »good luck wink« to the Virgin Mary floating next to the plane and jumped into the unknown. A coupple of seconds into freefall the adrenaline overflow started wearing off my brain started operating at full capacity once again and i was able to start executing the dive plan. Overwhelmed by the freedom and the indescribable feeling of freefall i forgot about the altitude awareness for a moment which resulted in Tomaž having to show me a hand signal to open my parachute. I pulled the ripcord and in a split second the parachute appeared above my head. That's when i heard the voice of my third instructor Borut, who then helped me to reach the ground and land safely...well, fairly safely – towards the end of the landing manouvre i didn't pay enough attention to his commands, pulled the toggles slightly too early, which resulted in a roll on the ground right after landing. After that i brought my canopy back to the packing area, where my sister Kaja – prostipad.si team member helped me pack it. With Aljaž we then analysed the video footage of my first jump and soon after that it was time to go up again. This time everything got a lot easier because i knew what to expect...only the tasks in freefall changed a little bit. The 3rd, 4th, 5th, 6th and 7th jump practically became almost routine. Later that evening my fellow skydivers »baptised« me for the completion of the course with some not at all gentle spanking on the butt for good luck. And so my skydiving course was finished. From that day on i can barely wait for every single weekend (especially those when the weather is nice and my wallet is full) to get to the dropzone and jump out of perfectly good planes. Kaja, Tomaž, Aljaž, Borut, thank you very much for the best, most amazing and most fulfilling experience ever. TO MANY MORE! See you all at the dropzone!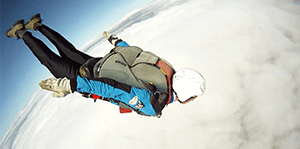 Anže Čokl
The AFF skydiving course under your organisation was for me personally one of the nicest, best and deffinitely one of the most pristine and memorable experiences in my life. And i can say i have seen many things. But since everyone experiences freefall differently, through their own eyes i would prefer to say a word or two about you – the instructors. Where can i find the reasons for your enthusiasm while »working« with students? I dont know really. But you really are amazing! All three of you. Since i dont know that much about skydiving yet, i might be lying if i would try to define your competencw which i did not doubt in. But what i can assess, what i have experienced is your relationship wiht your student – me. I have got to meet from many places, but there are only a few people i can really trust. I guess the phrase »i'd jump out of a plane with him« is actually true...after all, we jumped together seven times. While getting to know the new hobby i got to know you too – well enough to know – and wish – to spend a part of my time with you. I would like to thank the whole team from the bottom of my heart. Not just for the solid skydiving foundations we laid together, but also – and mostly for the fact that you gave your all, and made me feel completely safe, relaxed and homely, even though skydiving isn't golf. I would strongly recommend all of my friends to take the AFF course with this very team.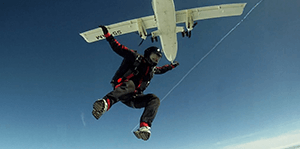 Špela Suhadolc
For quite a while i couldn decide between static line and AFF type of course. Finally i decided to go with the AFF method because it has certain advantages – you allready begin from 4000m which allows you to explore the feeling of freefall on your first jump accompanied by two instructors who hold youn and help you correct any little imperfections. Even when you deploy your parachute you are not alone – there is an instructor on the radio who guids you and helps you get back to the ground safely. But before you can ever go up into the sky you must go through the ground preparation which is concluded by taking a written exam. After that, every day you get to the dropzone you also have an oral exam with one of your instructors to make sure you still know everything you need to in order to be safe. Every jump of the course is recorded, and at the end of every skydiving day it's time for video analysis with the instructors, who will then give advice on how to improve. But that doesnt yet mean that after the 7th jump, when you are done with the course you will be left to yourself. You will still have a radio connection so an instructor can still help you land and teach you through that, you will have someone available to teach you how to pack your parachute, and someone to advise you what to do in freefall. I would recommend taking the AFF course to anyone who would like to take up skydiving. Prostipad.si tem you are awesome :).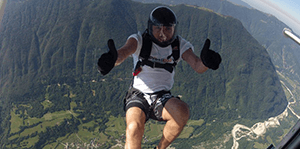 Andrej Tominc
Skydiving is a sport, where a person jumps out of an airplane and performs certain figures up to a point, when he has to open a parachute which then helps him reach the ground and land in a safe manner. Or in other words...This is anjoyment from the moment you leave the airplane all the way until you land. And if you respect certain rules while doing it it is actually a very very safe extreme sport. The team of instructors is very professional and it is them i have to thank, for making me so in love with this sport.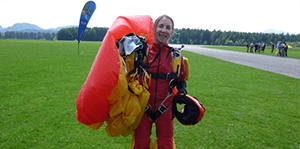 Martina Čufar
Static line and AFF course are pretty much ligkr night and day! When jumping on a static line you don't really get to experience the freefall, everything is over really fast and the once you get to full altitude you are that same beginner, not really aware of what you're doing. In AFF that is quite different because you get to experience the freefall, the speed of it and the wind of it on every jump, which is actually the most attractive part of skydiving. Combined with good instructors who help you correct your flaws you can quickly become independent and start controlling your body through the air and enjoying it. Deffinitely worth it!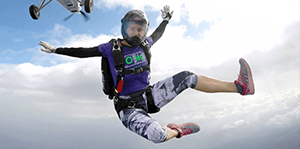 Tina Turk
Dear future AFF students. Just like anyone looking for adrenaline, i also wanted to try skydiving. But nobody told me this is a sport that gets deep under your skin after your very first jump. So after doing i tandem skydive i signed up for the first available AFF course. And i will never regret that decision. Like with everything, you have to know the theoretical side of it first. Ground preparation for skydiving takes 3 days, followed by a short written exam. After that it's time for the actual skydiving with Tomaž and the crew at the dropzone. On the first 3 jumps you are accompanied by two instructors, and on the next 4 you will only be accompanied by one. Before every jump Tomaž gave me instructions for the specific jump. If once wasn't enough we repeated that until i knew it all. I always knew exactly what we would be doing when i boarded the plane, and because of that there weren't any problems in freefall as well. Safety was taken care of 100%, so there was nothing to worry about. The most important thing is to relax and have fun!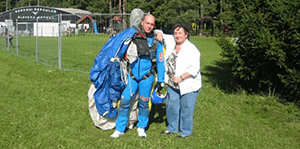 Uroš Krašovec
In my experience AFF is the best type of course for future skydivers because it enables them to directly experience the long lasting freefall. In those extreme conditions i was under control and assisted by two instructors and at the same time i was performing certain exercises. What is fascinating about this is the fact that they analysed every move of my body during freefall which enabled me to learn from my mistakes after i landed and that is why i improved a lot in those 7 jumps. I also did 7 static line jumps beforehand and got a feeling like that is only used to deploy the parachute as fast as possible and glide afterwards. There was no freefall so for me it was an enormous change when i transferred to the AFF course. The AFF course gave me all in 1 package. Besides that the AFF course was deffinitely my best and most professional enjoyable experience in my life.
×